Business Research for Innovation, Design, Growth, and Entrepreneurship (BRIDGE)
The following course is designed to prepare students for careers and advanced education in business innovation, entrepreneurship, and management with a solid grounding in fundamentals. While learning about topics of business innovation, design, venture financing, and growth strategy, students will gain the knowledge necessary to build an innovative business proposal and gain economic acumen.
As a result of COVID-19, this course will be Online via Zoom. Application for summer 2023 now available. Click here to apply. 
Through a combination of online discussions via Zoom, real-life venture case studies, and venture simulations developed at the top Universities, this course prepares for your careers and advanced education in business, entrepreneurship, and management with a solid grounding in fundamentals. We learn and immerse ourselves on the topics of business innovation, venture financing, and growth strategy. The simulations help us experience the dynamics of a business venture and the challenges of raising money, leading the organization, and building wealth for the founders and stakeholders. Examples include companies that went from an idea to market and raised investment from angels and venture investors.
INSTRUCTOR: Professor Vish Krishnan (see below for more information)
PROGRAM DATES: July 10, 2023- July 28, 2023 (Online via Zoom) 
PROGRAM TIMES: (Online via Zoom)
All courses will be held each week from 5pm -7pm PST.  
Week 1: Monday, July 10 & Tuesday, July 11 
Week 2: Wednesday, July 19 & Thursday, July 20
Week 3: Tuesday, July 25 & Thursday, July 27
TUITION: $2,500
Learning Outcomes:
Gain analytical, strategic, creative, and critical thinking skills needed to be an innovative, opportunity-driven, and entrepreneurial leader.
Internalize and incorporate key components necessary to construct a business proposal/presentation for an innovative idea.
Gain an understanding of core leadership skills necessary to guide innovative pursuits in turbulent environments.
Course outline: 
Introduction to Business Innovation and Growth: Generating Ideas for Value Creation
Economic and Financial Foundations of Businesses
Developing and Implementing Business Strategy
Uncovering and Fulfilling Unmet User and Customer Needs
Designing Business Models for Growth and Scale
Capturing Value and Synthesizing a Business Plan

Dr. Vish Krishnan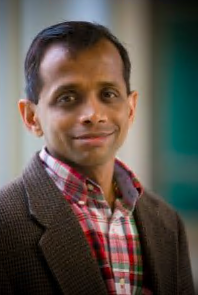 Professor Vish Krishnan holds the Jacobs Chair in Engineering and Management at the University of California, and is a faculty affiliate at the Harvard Business School's Laboratory for Innovation Science. Prof. Krishnan holds a PhD from MIT and has co- authored some of the most cited articles on the topics of product management and growth strategy. An accomplished scholar and a 5-time winner of the Most Valuable Professor award with substantial industry and entrepreneurial experience, he leads a number of entrepreneurial initiatives at UC San Diego. Professor Krishnan has served in editorial positions at the top journals in the areas of Innovation, Entrepreneurship and Operations Management. He works with senior leadership and management development programs at major Fortune 100 companies.
Other Program Information 
Students will be notified of acceptance within 5 - 7 business days. 
Cancellation or withdrawal for any reason by June 16, 2023 will receive a full refund 
Refunds for cancellation or withdrawal after June 16, 2023 will be issued for serious illness (doctor's certificate is required) or extenuating circumstances only. Tuition is not refunded for students who are dismissed from the program.
All refund requests must be made in writing to Maysoon Dong, Associate Director, UCSD Pre-College Programs at: precollege@ucsd.edu. You will receive a confirmation of your request. Refunds will take approximately 4-6 weeks to process. Refunds are issued in the same method of payment (check or charge) of payment to the program.